We focus on Asia, ACME is a dynamic firm with a complete package of skilled engineers and consultants from with speciality in the field of data centre, backbone / backhaul's design, implementation, maintenance & operation and all aspects of other IT service over 10 years.
ACME carries various brands of computer hardware, software and networking products. In addition to computer hardware and software, ACME's one-stop IT services include the planning, implementation, maintenance and development of systems, consultation services, cabling and construction services, networking solutions, Internet/intranet solutions, warranty and maintenance services as well as comprehensive application training.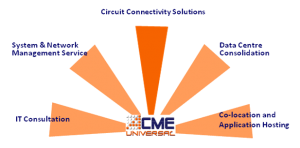 (Click to Enlarge)
---
Company:
Principal Founders With Combined 20+ Years Of Industry Experience In Data Centres, Network Engineering, And IT Systems.
Customers/Market:
Enterprise Companies And Service Providers With Emphasis In Hong Kong And China. We are keep extending our reach to provide the best and easy-to-access solution for our customers.
Comparative Advantage:
Our Team Not Only Has Great Experience In Marketing And IT Trend In Data Centre Management (Tier1 To Tier4), But Also Has Experience In Handling "Carrier" Grade Backbone, Security Products, Virtualization and Multi-Tier Storage Solution.