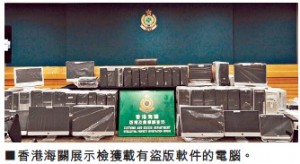 Customs officers have arrested eight men and two women in a crackdown on commercial organisations' use of pirated computer software in the course of business.
During the blitz, Customs officers searched the offices of seven companies doing business in engineering, design, advertising, printing and catering.
The arrestees were aged from 25 to 56. Officers seized a total of 85 computers installed with pirated software, mainly operating system and office application software, valued at about $360,000.
Customs' Intellectual Property Investigation (Operations)'s Group Head Michael Kwan said at a press conference today that from January to November, the department had received 92 complaints concerning corporate piracy compared with 87 in the same period last year.
Customs will monitor the corporate piracy situation and strengthen communications with the industry. Mr Kwan also encouraged the public to report software piracy activities.
海關採取連串行動,打擊使用盜版電腦軟件,拘捕八男二女,檢獲85台載有盜版軟件的電腦。被捕各人獲准保釋候查。
海關早前接獲舉報,指有公司涉嫌使用盜版軟件,於是展開調查,搜查了七間公司,涉及業務包括工程、設計、廣告、印刷和餐飲。
被捕人士年齡25至56歲,七人為公司董事,三人為職員。檢獲的電腦載有操作系統軟件和辦公室應用軟件等,總值約36萬元。
海關版權及商標調查(行動)課監督關煜群今日(12月22日)在記者會上表示,今年1月至11月,接獲92宗有關公司使用盜版電腦軟件的舉報,去年同期有87宗。
他說,海關密切監察機構盜版的情況,會與軟件業界加強溝通,收集情報,同時鼓勵公眾檢舉使用盜版軟件活動。
source:  http://www.news.gov.hk/en/categories/law_order/html/2013/12/20131222_115245.shtml
source: http://www.news.gov.hk/tc/categories/law_order/html/2013/12/20131222_115245.shtml