Consolidation & Virtual Enterprise
We just became a VMWARE Official Solution Provider. 
More Info >>
CIOs in 2009 saw their budgets hammered by the global recession. So as the calendar turns to 2010 and signs of a recovery begin to emerge, IT administrators are aimed at reducing data centre capital and operating expenses, while making it easier to manage the resources within the facility.
Leverage the power of virtualization by fully utilising existing IT resources to deploy new applications, improve availability and ensure business continuity. Dramatically reduce capital and operating costs while increasing IT staff efficiency with VMware vSphere, the most trusted and reliable virtualisation platform in the industry. VMware vSphere delivers "Always On IT" to small to mid-sized businesses, bringing the high availability, performance and reliability of the VMware platform together with cost-effective packages designed for small IT environments.
Virtualization On Youtube: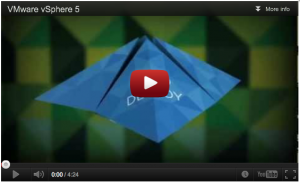 VMware vSphere & Cloud Computing Overview (Click to Watch)
---
Is blue sky ahead? What enterprises must do?
Think holistically, not piecemeal

Consider the lifecycle of the data centre in order to make the right infrastructure choices at the right time

Invest in management

Management tools can help optimise the performance of existing data centre infrastructure

Doing nothing is not an option

The growth of IT complexity won't wait for you
---
VMware vSphere Editions for Mid-Size & Enterprise Business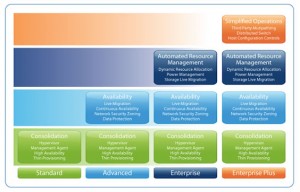 (Click to Enlarge)
VMware vSphere Enterprise Plus delivers the full range of VMware vSphere features, transforming datacenters into dramatically simplified environments, offering the next generation of flexible, reliable IT services.
VMware vSphere Enterprise includes key features for minimizing downtime, protecting data, and automating resource management.
VMware vSphere Advanced provides a strategic consolidation solution, protecting business-critical applications against planned and unplanned downtime, providing superior application availability.
VMware vSphere Standard offers an entry solution for basic consolidation of applications, reducing hardware costs while accelerating application deployment.
VMware vSphere Essentials Plus for Retail and Branch Offices provides a turnkey solution to transform all of an enterprise's branch offices into more agile, secure, and cost-effective businesses with superior application availability and data protection features for up to three hosts per site.
VMware vSphere Essentials for Retail and Branch Offices offers a package solution for each of your branch offices to extend agility, reliability, and efficiency across your organization for up to three hosts per site.
---
Compare vSphere Editions for Mid-size and Enterprise Businesses