ACME has been focusing in Asia for more than 17 years. We have extensive experience in Telecommunication service such as Data center Colocation service, Cloud and Connectively Leased line service (MPLS, IEPL DIA and IP Transit). We also carry various brands of IT hardware, software and service major in computing, storage, networking, security and backup by our 7×24 professional Service Support Center (SSC), Network Operation Center (NOC) and Security Operation center (SOC).
We are your one-stop IT infrastructure solution for Telecommunications and System Integration. We provide the latest IT technology to support our clients create business value, achieve goals and success in the ever-changing business market. Our key services including WAN connectively, internet, leased line, data center, cloud computing & hosting, IT business operation outsourcing and managed IT service.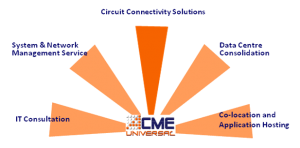 (Click to Enlarge)
---
Company:
Principal Founders With Combined 20+ Years Of Industry Experience In Data Centres, Network Engineering, And IT Systems. We are partner with over 40 telecom, carries or ISP and we are directly partner with over 20 top IT product brands in Asia.

Customers/Market:
Enterprise Companies And Service Providers With Emphasis In Hong Kong And China. We are keep extending our reach to provide the best and easy-to-access solution for our customers.

Comparative Advantage:
ISP-Grade Service Provider
• Mission critical response, professional & reliability culture and manner
• Competitive advantages on WAN connectively: Internet, circuits, bandwidth and routing
• Details and Systematic recording, tracking and reporting
• Owned our engineering teams to support relocation, cabling, electricity work

IT Professional Service & Managed Service Provider
• Familiar all kind of IT services, support and system Integration
• Long-terms relationships and directly deal with well-known hardware manufacturers & software vendors
• Full IT service teams with our expertise products (Storage, backup, security, networking and system support)
• Managed our owned sparing parts center and demo Labs center

One-Stop Service Provider
• Combine with Telecommunication and System Integration technology
• Single point of contact in requesting support, case handling & fault reporting
• Automatic and Scientific service support mechanism
• Qualified and certified service management and control by ISO, escalation list and ticket CRM system
• 7×24 Monitoring, Operation and Support by our service center, network operation center and security operation
center.

Wide range of solid customer base
• Our customer includes banking & Financial Services, Retail, Manufacturing and Logistics, Communications, Media and Utilities, Educational / NGO institutions and Public sectors

Global presence
• We have global presence across France, United Kingdom, Singapore, Vietnam, Thailand, Cambodia, Philippines, Australia, Hong Kong, Macau, Taiwan and China with POPs or support center in most of China major cities.