We work with our VoIP partners to provide crystal-clear quality telephone services. We offer new level of VoIP broadband phone service to interconnect with the PSTN and private branch exchange (PBX).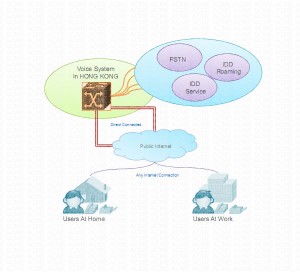 (Click to Enlarge)
Benefits
Crystal-clear voice quality
Lower total cost-of-ownership
Support fax service
Integrated with IDD service (optional)
Customer premises equipment rental (optional)
We also provide Integrated Digital Access Service (IDA) which is designed to provide a high–capacity telephony service with PABX system.
Benefits
High network reliability: Integrates with an advanced and reliable fibre-optic network
Huge cost savings: Low-rate plan helps save operational cost
24-hour management: Professional back-up crew to handle inquiries and fault