IT CONSULTATION, PROVISIONING & DEPLOYMENT
Explosive growth in Internet and unified communication usage reaches an economic of scale. With tremendous increase in traffic and the number of users, demand for network resource arises rapidly.
We position our service to integrate Date Centre Operator & Infrastructure Provider.
We Are Neither iDC Infrastructure Provider Nor iDC Maintainer, We Are Both.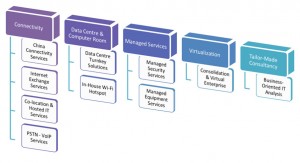 (Click to Enlarge)
WHY US BUT NOT OTHERS
Vision And View Of Information Technology And Data Centre
Pioneer in IT concept, skill, knowledge and experience in sales and network solution between Hong Kong, Greater China, Taiwan, Singapore and United Kingdom it market.
Advanced Market And Technology Development
Familiar with IT marketing and strong sense of it trend for over 10 years. Our IT development team owns the most advanced IDC management technology.
Strong Strategic Partnership With Key Industry Players
Closely alliances with the leaders in different IT fields, system integrated service providers and vendors.
Cost Effectiveness And Flexible Plan
Our team can make appropriate plan for almost any requests and the toughest conditions, because we have relative experience on different demands.
Systematic Marketing Training And Solid Technical Support Team
We have our system, material, training and work flow for our marketing and technical support. All these things come from our 'real operation' to our clients.