Security Is More Important Than Ever
As we head into 2010, we are seeing an unprecedented number of threats that must be addressed when locking down security for networks and information systems. We still face sophisticated endpoint threats such as Malware, Spambots, and Viruses, but securing the perimeter of the network has become even more important as hackers and identity thieves continue to find backdoor entry points. Now that the age of cloud computing and virtualization is upon us, we have an entirely new set of risks to take into account.
ACME Managed Security Service is a fully managed, security solution that enables secure connectivity between customer intranet locations and the Internet. We provide security design and out-tasking solutions.
Key Benefits To Your Business:
---
Cyber Threat is Real Deal
President Obama explains how the growth of digital networks has increased the need to invest in online security, as well as steps individuals can take to protect themselves from online threats.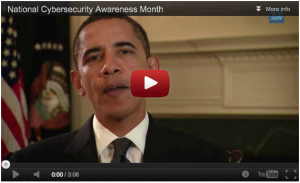 From The White House – National Cybersecurity Awareness Month
(Click to Watch)
---
Featured Solutions
David Hurwitz discusses how the CA Information Governance Suite now includes a Discovery and Retention Manager module that enables organizations to proactively disposition and retain the right information to reduce volume, optimize discovery for greatest efficiency and relevance, and limit outside legal review costs by producing a lower volume of highly relevant information.
The Cisco Spam & Virus Blocker is a dedicated anti-spam, antivirus, and anti-phishing security appliance designed specifically for small businesses.
A new survey conducted by global market intelligence firm IDC — reveals a growing chasm between security and innovation. RSA President, Art Coviello, and IDC Analyst, Gerard Pintel reflect on the report and give their recommendations to move Information Security forward.
SecureSphere Interactive Audit Analytics provides a fast reliable way to view audit data and understand database activities. Using various audit views it supports analysis and correlation of security events with just a few clicks of a mouse.
Symantec Corporation (NASDAQ: SYMC) is the largest maker of security software for computers. The company is headquartered in Mountain View, California, and is a Fortune 500 company and a member of the S&P 500 stock market index.
URL filtering alone is not enough to protect the web gateway. Learn how the Trend Micro Smart Protection Network provides additional in-the-cloud protection.
Ever wonder how Web security companies find and block threats before they can harm you? Websense, the leader in Web security, has a proprietary technology called ThreatSeeker™ that scours the Web 24 hours a day, examining and classifying over 600 million websites each week. Take a peek behind the scenes and see the technology behind Websense.